Shorts Sets
Great for Spring right into Fall. These are lightweight shorts in a longer board short length that is also a roomy style. Great for active kids to play in. Elastic waist. These can be lined if you are in a cooler climate and want them a little heavier. Tee will be appliqued with a matching/coordinating swatch of fabric. Color of tee may vary as will brand. Sizes 6/12 mos - 6 years old. Larger sizes are avail too.
$19.00/$21.00 lined

Bandanna Set
Lightweight, breathable and fun!!! These sets are great for warm weather, keeping your little one cool and in style. Features a triangle top with adjustable ribbon and a tie back. Pants are pull on style and gaucho inspired. Many colors and patterns available ~ mix and match colors and patterns for added funk! Outfit available in sizes 18 months - 5 years (4/5 fitting like capri's). Boys outfit is also available and comes with pants and appliqued tee!
$16.00 Girls Set/$19.00 Boys Set
Bandana Top or Pants
Not only are bandanna tops are great in the hot weather but they go with EVERYTHING!! We've worn them with shorts, jeans, skirts and yes even bandanna pants. They are adjustable using a ribbon around the neck and tie in the back. Available in sizes 18 months - 6 years
Bandanna pants are wonderful for both boys and girls. Tons of colors and patterns available! These are great lounging pants, wonderful to wear over swimsuits, and perfect for the tot that is potty learning. They have an elastic wasit for comfort and because they are so light and airy they dry super quick. Available in sizes 12 months - 5 years (fitting as capri's on 4/5)
Tons of colors and patterns available for both the top and bottoms.
$6 for the top
$11 for the bottoms
Buy multiples and SAVE!!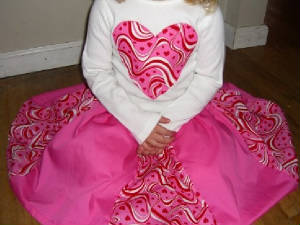 Twirl Skirt
Oh how little girls love to twirl!! I make 2 styles of these skirts ~ patchwork and panel. With the patchwork I take 4 x 4 squares of solid and patterened fabric and mix them all up for a fun and funky look. No 2 will ever look the same!! With the panel skirt I take between 2 and 4 coordinating fabrics and make vertical panels. Same twirl with a totally different look! Both skirts feature pull on style with a comfortable elastic waist. Think it would look darling as a swing top? Add hidden adjustable straps and make this go from a funky skirt to a sassy swing top! Sizes 6-9 months - 6 years available in your choice of colors and themes.
$25.00 sizes 6-9 mos - 24 mos $5.00 more for sizes 3T - 6