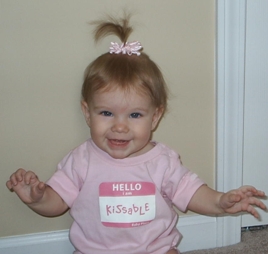 Mini Korkers
The mini korker is the smallest bow I make. Very full with over 12 korkers per bow. These korkers measure 1 1/2" wide and are perfect for babies, pig tails or holding bangs back. I use 1/4" satin ribbon and heat seal the ends to prevent fraying. You may pick up to 3 colors to use and there is a large variety of colors available to match any outfit. They come attached to your choice of alligator clip or mini pony o.
$3.00 each or $5 a pair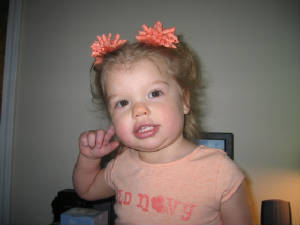 Small Korker
Medium Korkers are perfect for toddlers up to school aged girls. They are very full with over 25 korkers in each and measure about 3" wide. I heat seal all ends to prevent fraying. I use 3/8" ribbon for these and have a wide variety of colors to choose from. You may choose up to 4 colors. Your choice of covered alligator clip, french clip or pony o.
$4.00 each or $7 a pair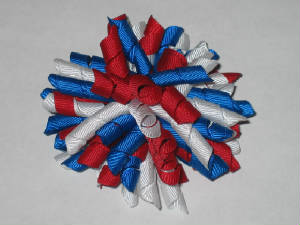 Large Korkers
These large korker bows are perfect for the older child or when using only one. They are very full with over 30 korkers per bow and measure about 4" wide. I use 3/8" ribbon for these and have a large variety of colors available. You may chose up to 5 colors to match any outfit. These come attached to your choice of covered alligator clip, french clip, or pony o.

$5.50 each or $9 a pair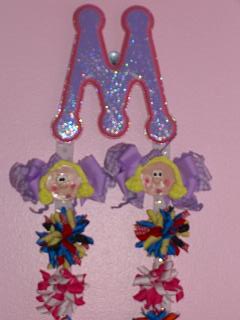 Hair Bow holders
Bow Holders are a must for any bow loving girl!! These are available in any letter of the alphabet. I can use up to two colors on them to match any room decor. I paint 3 layers of color then add sparkles if you'd like and finish it off with a layer of clearcoat to protect the finish. I then attach either one or two 36" ribbons (depends on letter chosen) to hang bows from. Shapes are also available ~ just ask!!

$14.00